Zucchini Meaning in Bengali - Zucchini এর বাংলা অর্থ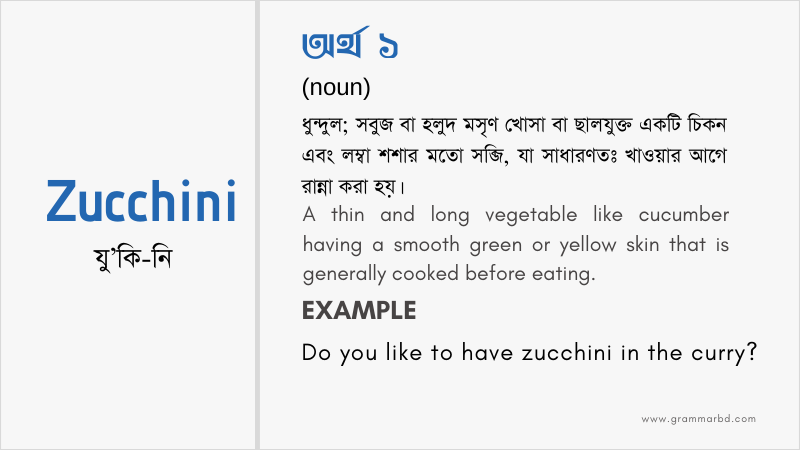 Bengali Meaning of Zucchini
[যু' কি-নি/ zʊˈki·ni]
noun
1. ধুন্দুল; সবুজ বা হলুদ মসৃণ খোসা বা ছালযুক্ত একটি চিকন এবং লম্বা শশার মতো সব্জি, যা সাধারণতঃ খাওয়ার আগে রান্না করা হয়; 2. যে গাছে এই সব্জি জন্মায়;
MEANING IN ENGLISH
noun
1. A thin and long vegetable like cucumber having a smooth green or yellow skin that is generally cooked before eating; 2. The plan which grows this vegetable;
Zucchini EXAMPLES in Sentences
The farmer has cultivated zucchini, carrot, cabbage, and other vegetables in the land.
Do you like to have zucchini in the curry?
The cook used sliced carrots, zucchini, and capsicum in the curry.
This departmental sells different kinds of vegetables like cucumber, zucchini, carrots, tomatoes, cabbage, cauliflower, etc.
I didn't get zucchini in that departmental store.
We had stuffed zucchini in a restaurant.
Arabs cook stuffed zucchini and use minced meet with spices as the stuffing.
Do you prefer eating zucchinis?
I have zucchinis, gourds, carrots, cauliflower, cabbages, tomatoes, and most other vegetables.
The zucchini is ripe so, its skin has become yellow.
Please don't use zucchini in the curry.
Have you bought zucchinis from the shop?
Jim doesn't like to have zucchini at all.
I am looking for fresh zucchinis, these are too ripe.
I used carrots, cauliflower, and zucchini in the soup.
The vegetable curry consists of capsicum, cabbage, cauliflower, carrots, and zucchini.
Why don't you like to eat zucchini?
Zucchini tastes good but I don't know why you don't like it.
Jeff has planted a zucchini tree in his vegetable garden.
Do you have zucchini in your shop?