Quite Meaning in Bengali - Quite এর বাংলা অর্থ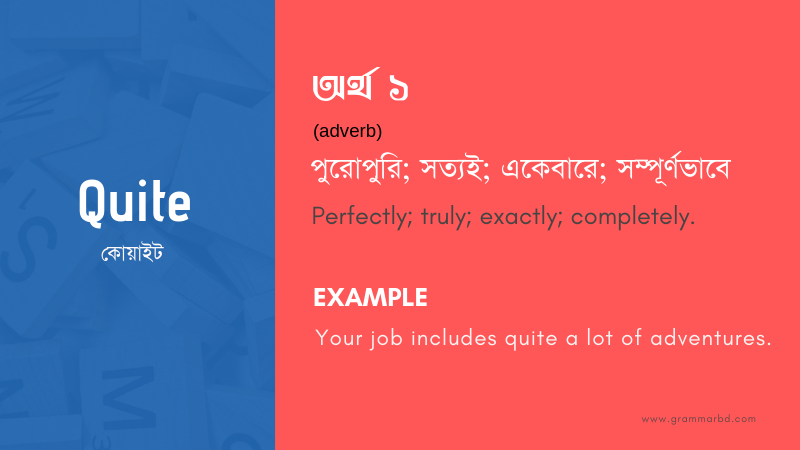 Bengali Meaning of Quite
[কোয়াইট/ kwɑɪt]
adverb
1. পুরোপুরি; সত্যই; একেবারে; ঠিক; পুরেপুরিভাবে; সমগ্রভাবে; সম্পূর্ণভাবে; বাস্তবিকই। 2. কিছুটা; কমবেশি; বেশ; মোটামুটি।
MEANING IN ENGLISH
adverb
1. Perfectly; truly; exactly; exact; thoroughly; completely; totally; in fact. 2. to some extent; more or less.
SYNONYM
Actually; absolutely; altogether; fully; entirely; perfectly; largely; thoroughly; really; truly; totally; wholly; utterly; all in all; all; all told; in all respects; considerably; in fact; in truth; in reality; positively; just; purely; precisely; without reservation; well.
ANTONYM
Doubtfully; incompletely; inadequately; indefinite; partly; partially.
Phrase and Idiom
Quite a
কোন নির্দিষ্ট ব্যক্তি বা জিনিস বিশেষভাবে লক্ষণীয়, প্রশংসনীয়, বা হৃদয়গ্রাহী বোঝাতে ব্যবহৃত হয় (used to denote that a particular person or thing is especially noticeable, praiseworthy, or impressive)
Quite some
একটি লক্ষণীয় পরিমাণের (a noticeable amount of)
Quite a bit (or a lot)
একটি লক্ষণীয় পরিমাণের বা সংখ্যার (a noticeable amount or number of)
Not Quite
সম্পূর্ণ বা পুরোপুরিভাবে না (Not entirely or completely)
Quite Examples In Sentences:
Lisa is quite confident.
The room is quite large.
The place is quite beautiful.
The candidate is quite deserving.
Alice is quite sure about this.
Aric is quite disturbed.
The day is quite gloomy.
This is quite a loss.
Your job includes quite a lot of adventures.
Richard is not quite sure.
Andrew is quite tired.
The students are quite hungry now after such a hectic schedule.
This place is quite crowded.
Ann is not quite happy.
Are you quite sure about it?
Isn't she quite intelligent?
The building is quite large.
The building is quite old.
The lady is quite talkative.
The man is quite old.
The project was quite large.
This project is quite successful.
The team is quite experienced.
The team is quite friendly.
The students were quite happy.
David was not there for quite some time.
Tom was quite angry.
The program was quite enjoyable.
The movie was quite amazing.
The institute is quite large.