Yolk Meaning in Bengali - Yolk এর বাংলা অর্থ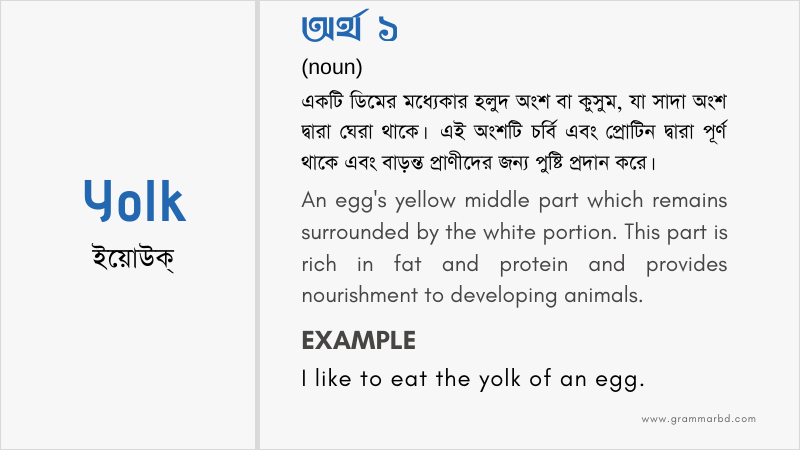 Bengali Meaning of Yolk
[ইয়োউক্/ joʊk]
noun
একটি ডিমের মধ্যেকার হলুদ অংশ বা কুসুম, যা সাদা অংশ দ্বারা ঘেরা থাকে। এই অংশটি চর্বি এবং প্রোটিন দ্বারা পূর্ণ থাকে এবং বাড়ন্ত প্রাণীদের জন্য পুষ্টি প্রদান করে।
MEANING IN ENGLISH
noun
An egg's yellow middle part which remains surrounded by the white portion. This part is rich in fat and protein and provides nourishment to developing animals.
Derived Form/ Related Form
yolked, adjective
yolkless, adjective
yolky, adjective
SYNONYM
Egg yolk; egg; vitellus; nutrient; food; inner core; eggs; fixings; ingredient;
ANTONYM
Unwholesome;
Yolk EXAMPLES in Sentences
I like to eat the yolk of an egg.
Please separate the yolk from the egg white.
It will be easier for you to separate the yolk if you use an egg-separator.
I want an egg-separator to separate the yolk quickly.
You need to use only the yolks for this recipe.
I like to have poached eggs with runny yolks.
My mom prefers poached eggs with semi-hard yolks.
You need to use only the yolks in this dough.
Why have you made the yolks too hard?
My brother prefers poached eggs with runny yolks.
Egg yolks are rich in fats and proteins.
Yolks provide nutrition for developing animals.
Children should eat yolks daily for their proper growth.
She doesn't want to take the yolk.
Please don't give her the yolk.
Have you used yolks in this recipe or only the egg whites?
You don't need to use yolks in this recipe.
Don't you like the yolks?
Yup, I like the yolks but sometimes, I avoid having these because they are rich in fats.
Yolks are necessary for developing children.
The child likes to have the yolk only.
Won't you have the yolk?
Jane will only have the egg white, please separate the yolk.
Don't you think that yolks taste yummy?