Yogurt Meaning in Bengali - Yogurt এর বাংলা অর্থ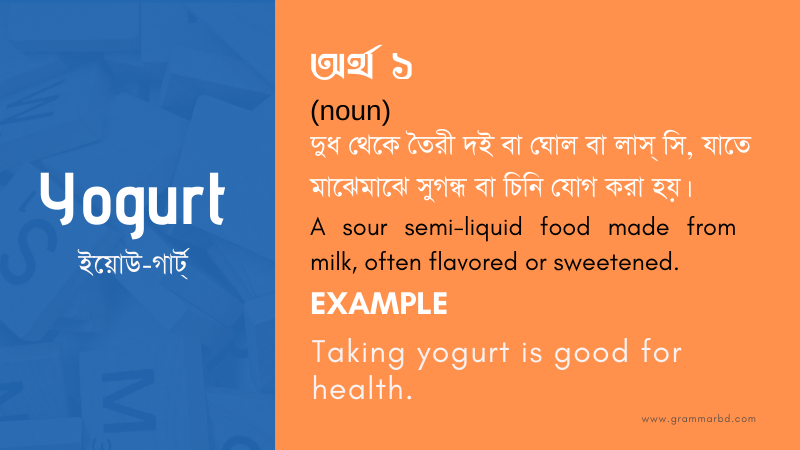 Bengali Meaning of Yogurt
[ইয়োউ-গার্ট্/ ˈjoʊ·ɡərt]
noun
দুধ থেকে তৈরী দই বা ঘোল বা লাস্ সি, যাতে মাঝে মাঝে সুগন্ধ বা চিনি যোগ করা হয়।
MEANING IN ENGLISH
noun
A sour semi-liquid food made from milk fermented with bacteria, often flavored or sweetened.
SYNONYM
Curd; yoghurt;
Yogurt EXAMPLES in Sentences
Taking yogurt is good for health.
Yogurt is good for skin and hair.
Would you like to have some yogurt?
Jerry is looking for low-fat yogurt.
Jane prefers strawberry yogurt.
I like to have a salad with yogurt.
Jim likes to have yogurt adding a little sugar to it.
I will have cereals with yogurt.
I will have a fruit salad with yogurt.
James won't have yogurt.
This yogurt is too sour.
Do you have mint yogurt?
Add some yogurt to make the gravy thick.
Did you use yogurt in this curry?
Use yogurt in your salad instead of cream or mayonnaise.
Please use yogurt in my sandwich instead of mayonnaise.
Please pour some yogurt over the fruit salad.
Jeff had corn flakes with yogurt and fruits in breakfast.
Please give me some fruit and yogurt with the cereals.
I like to have frozen yogurt instead of ice-cream now.
Terry doesn't like yogurt at all.
Merry has lactogen intolerance, so she can't have yogurt.
How much yogurt do you need?
I want two liters of yogurt.
Do you have plain yogurt?
Are you preparing yogurt?
Do you know how to prepare yogurt?
My mom prepares tasty yogurt.
She likes to have sweetened yogurt as a dessert.
Do you have sweetened yogurt in your shop?