Wanna Meaning in Bengali - Wanna এর বাংলা অর্থ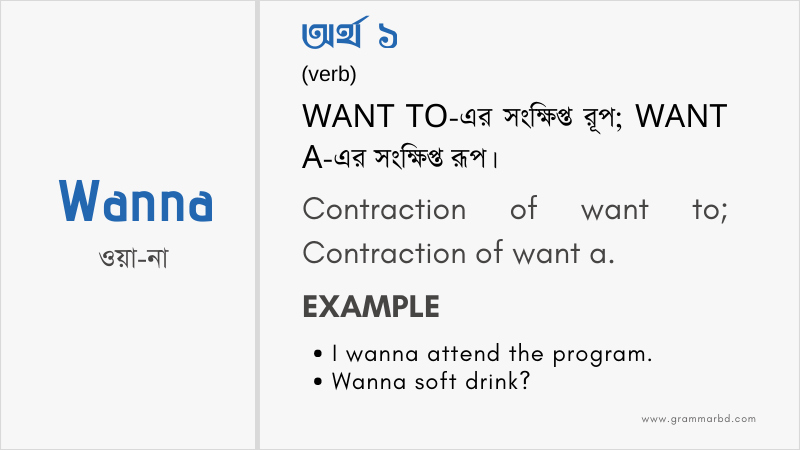 Bengali Meaning of Wanna
[ওয়া-না/ ˈwɑː.nə]
verb
1. Want to-এর সংক্ষিপ্ত রূপ; 2. Want a-এর সংক্ষিপ্ত রূপ; (সাধারণতঃ অনানুষ্ঠানিকভাবে ব্যবহৃত হয় ;)
MEANING IN ENGLISH
verb
1. Contraction of want to; 2. Contraction of want a; (generally, used informally ;)
SYNONYM
Want to; want a;
Wanna EXAMPLES in Sentences
I wanna attend the program.
Do you wanna go there?
Wanna soft drink?
Jane wanna prepare the assignment.
Fred wanna go to the concert.
I wanna go to the picnic.
Jerry wanna help you with this project.
Wanna milkshake?
Wanna pizza?
Wanna burger?
Wanna pastry?
Wanna cold coffee?
Wanna tea?
Aric wanna give the speech.
Alice wanna bake the cake.
Jeff wanna sing the song.
Tom wanna dance with her.
Jim wanna watch the movie.
Harry wanna perform on the show.
Angel wanna have a conversation with her boyfriend.
Wanna break?
Wanna chill?
I wanna teach him a good lesson.
You wanna go there.
Ericson wanna meet you.
They wanna go on an excursion.
Linda wanna coordinate the meeting.
The manager wanna train him in this task.
I wanna forgive him.
Do you wanna be there?
I wanna participate in the program.
I wanna prepare the presentation.
She wanna work in the movie.
Lucy wanna meet you.