Quotes Meaning in Bengali - Quotes এর বাংলা অর্থ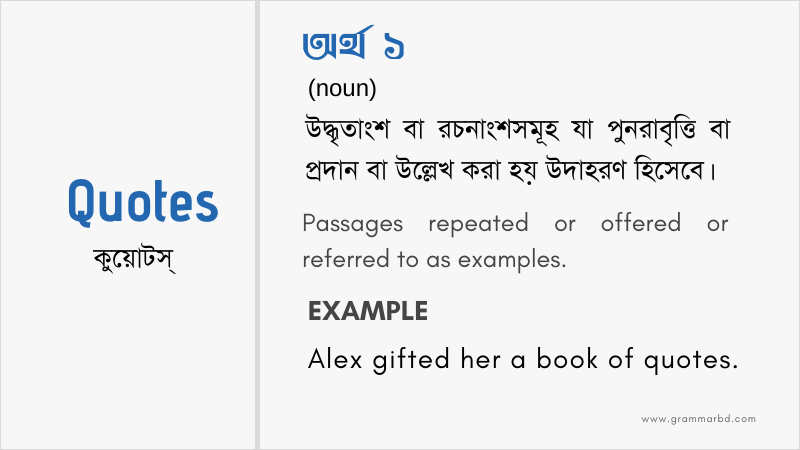 Bengali Meaning of Quotes
[কুয়োটস্/ kwohts]
noun
1. উদ্ধৃতাংশ বা রচনাংশসমূহ যা পুনরাবৃত্তি বা প্রদান বা উল্লেখ করা হয় উদাহরণ হিসেবে; 2. উদ্ধরণ চিহ্ন; উদ্ধারচিহ্ন; 3. উদ্ধৃতিসমূহ;
verb
Quote-এর Present tense, third-person singular number 1. একটি উদাহরণ হিসেবে দেয়া; 2. সংক্ষেপে বলা বা উল্লেখ করা কিন্তু নির্দিষ্ট করে; 3. কারোর পরে বলা;
MEANING IN ENGLISH
noun
1. Passages repeated or offered or referred to as examples; 2. Quotation marks; 3. Quotations;
verb
Quote's Present tense, third-person singular number 1. Giving as an example; 2. Speaking about briefly or making reference to but definitely; 3. Saying after another;
Derived Form/ Related Form
quoter - noun
outquote - verb (used with object), outquoted, outquoting.
prequote - verb (used with object), prequoted, prequoting.
requote - verb (used with object), requoted, requoting.
SYNONYM
Citing; citation; excerpt; cutting; passage; extract; recitation; quote; saying; reference; selection; financial estimate; citations; quotations; references; extracts; excerpts; parts; lines; snippets; sections; allusions; mentions; instances; cites; adduces; notes; specifies; refers; repeats; echoes;
Phrase and Idiom
Quote unquote
তথাকথিত, যেন; (so-called; as it were)
Quotes EXAMPLES in Sentences
Jim quotes renowned persons while talking.
Please quote an instance of his patience.
Jeff quoted Abraham Lincoln's views at this point.
Please don't quote this to anybody.
Please use quotes in this sentence.
Alex gifted her a book of quotes.
The CEO has asked for the price quotes.
The price quotes are incorrect.
Please correct the price quotes.
While talking he mentioned quotes from Tagore.
Do you know whose quotes these are?
The writer used different quotes from renowned personalities.
Do you know what the price quotes are?
Please prepare the price quotes.
I don't know whose quotes these are.
These quotes are not appropriate in this context.
This is a book of useful quotes.
You can use the necessary quotes from here in your writing.
I have not received the price quotes yet.