Meme Meaning in Bengali - Meme এর বাংলা অর্থ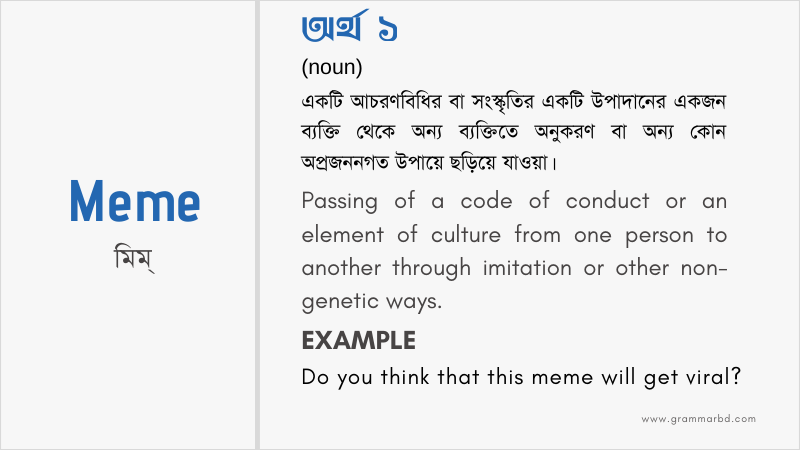 Bengali Meaning of Meme
[মি'ম্/ miːm]
noun
1. একটি আচরণবিধির বা সংস্কৃতির একটি উপাদানের একজন ব্যক্তি থেকে অন্য ব্যক্তিতে অনুকরণের মাধ্যমে বা অন্য কোন অপ্রজননগত উপায়ে ছড়িয়ে যাওয়া; 2. একটি ছবি, বার্তা,ভিডিও, প্রভৃতি, বিশেষতঃ যেগুলো হাস্যকর প্রকৃতির সেগুলো কপি বা অনুকরণ করে দ্রুত ইন্টারনেট ব্যবহারকারীদের দ্বারা ছড়িয়ে পড়া, কখনও কখনও কিছুটা পরিবর্তনের সাথে;
verb
1. মি'ম তৈরী করা এবং ছড়ানো; 2. একটি মি'মের বিষয়বস্তু তৈরী করা;
MEANING IN ENGLISH
noun
1. Passing of a code of conduct or an element of culture from one person to another through imitation or other non-genetic ways; 2. Copying and spreading of an image, text, video, etc., specifically, which are humorous in nature, rapidly by internet users, sometimes with little changes;
verb
1. Making and spreading memes; 2. Making a meme's subject;
SYNONYM
Trend; buzzword; craze; concept; fashion; fad; kick; idea; vogue; meteor;
Meme EXAMPLES in Sentences
Memes sometimes reflect cultural views and opinions.
Mention the most mentionable internet memes of the past year.
The motive behind most of the memes is spreading the humor.
Don't get upset because of this meme because it's only for fun.
Do you think that this meme will get viral?
Shane is busy with memeing and sharing his photos and videos of picnic with friends.
How long will you spend on memeing your videos with friends?
Do you think this matter will get memed?
Sometimes, some memes are not funny but a bit annoying.
This is an important matter to be memed.
Aric passes most of his time online, so he can better tell you about the most mentionable internet memes.
Why are you so annoyed because of this meme?
Have you seen these memes?
I don't like these memes because these are not funny.
The funny video of this cute cat got memed all over the internet.
The meme was so funny that I couldn't stop laughing.