Jealous Meaning in Bengali - Jealous এর বাংলা অর্থ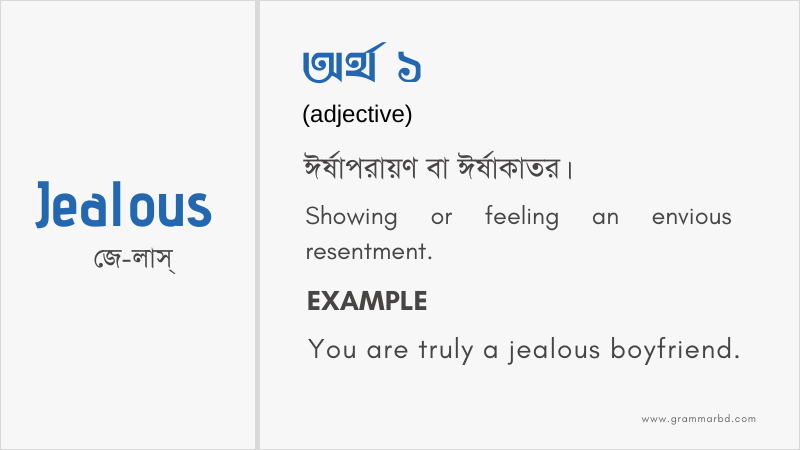 Bengali Meaning of Jealous
[জে-লাস্/ ˈdʒel·əs]
adjective
ঈর্ষাপরায়ণ বা ঈর্ষাকাতর কারণ 1. আপনি চান অন্য কারও সাফল্য,সুবিধা বা গুণগুলো যদি আপনার থাকতো; 2. আপনি ভয় পান যে যাকে আপনি ভালোবাসেন তাকে অন্য কেউ ভালোবাসে বা সে অন্য কাউকে ভালোবাসে; 3. আপনি কোনোকিছু বা কাউকে রক্ষা করার জন্য খুব সতর্ক;
MEANING IN ENGLISH
adjective
Showing or feeling an envious resentment because of 1. You wish if you had someone else's success, advantage, or qualities; 2. You fear that whom you love is loved by someone else or loves someone else; 3. You are very careful about protecting something or someone else;
Derived Form/ Related Form
jealously - adverb
jealousness - noun
over jealous - adjective
over jealously - adverb
SYNONYM
Anxious; wary; desirous; attentive; apprehensive; intolerant; envious; protective; possessive; skeptical; resentful; begrudging; suspicious; demanding; covetous; emulous; doubting; grabby; envying; green-eyed; grasping; guarded; grudging; jaundiced; invidious; monopolizing; mistrustful; questioning; possessory; solicitous; rival; watchful; vigilant; zealous;
ANTONYM
Content; calm; unworried; undoubting; satisfied; confident; unresentful; trusting;
Jealous EXAMPLES in Sentences
Why are you so jealous?
Aric is jealous of Jim's success.
You are truly a jealous boyfriend.
They were always jealous of me.
I don't know why they were so jealous of me.
Lisa's boyfriend gets jealous whenever a guy stares at her.
Linda gets jealous whenever her boyfriend looks at any other girl.
Please don't be so jealous?
His brothers were very jealous of his success.
My dad kept a jealous watch over me.
Your husband is so jealous that he won't let you sing with him.
He is a bit jealous but loves you a lot.
The neighbors were jealous of each other.
Don't get annoyed because of your jealous neighbors.
Let them be jealous and just do your work.
Jeff was annoyed with his jealous colleagues.
Alice was annoyed with her jealous neighbors.
Parents almost always keep a jealous watch over their children.