Jargon Meaning in Bengali - Jargon এর বাংলা অর্থ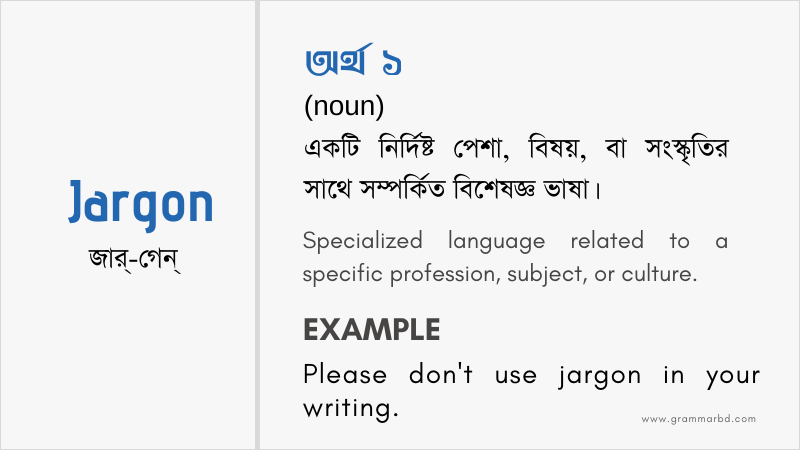 Bengali Meaning of Jargon
[জার্-গেন্/ dʒɑr·ɡən]
noun
1. একটি নির্দিষ্ট পেশা, বিষয়, বা সংস্কৃতির সাথে সম্পর্কিত বিশেষজ্ঞ ভাষা; 2. দাম্ভিক শব্দ সম্ভার, বাক্য গঠণ বা অর্থ সম্পন্ন ভাষা; 3. অপভাষা, অর্থহীন বাক্য;
verb
1. জার্-গেনে কথা বলা বা জার্-গেন্ ব্যবহার করা; 2. একটি ছোটো পাখির মতো তীখ্ন, ছোটো শব্দ বা আওয়াজ করা;
MEANING IN ENGLISH
noun
1. Specialized language related to a specific profession, subject, or culture; 2. Language with pretentious vocabulary, syntax or meaning; 3. Gibberish;
verb
1. Speaking in or using jargon; 2. Making a sharp and short sound like a little bird;
Derived Form/ Related Form
jargony, jargonistic - adjective
jargonist, jargoneer - noun
SYNONYM
Dialect; specialized language; idiom; argot; parlance; lingo; slang; patois; vocabulary; vernacular; balderdash; abracadabra; bombast; banality; buzzwords; bunk; colloquialism; cant; drivel; doublespeak; gibberish; fustian; lexicon; insipidity; newspeak; neologism; palaver; nonsense; rigmarole; patter; speech; twaddle; tongue; cliché; usage; hackneyed term; commonplace term; overused term; mumbo jumbo; stale language; shoptalk; trite language; street talk;
ANTONYM
Quiet; standard; silence; sense;
Jargon EXAMPLES in Sentences
Please don't use jargon in your writing.
Why have you used so many jargons in your article?
This article contains a lot of medical jargon.
These are technical jargon which common people won't understand.
This is a law magazine containing legal jargon.
Do you understand this computer jargon?
The soldiers were using military jargon.
I heard the birds jargoning in the balcony.
The doctors were jargoning which I could not understand.
The engineers were jargoning which Tom could not understand.
The lawyers were jargoning among themselves.
The IT people were jargoning among themselves.
I woke up with the jargoning of the birds.
The engineer used a lot of technical jargon in this article.
Please replace these jargons with understandable terms because this article is for common people.
Please stop jargoning and speak in an easy language.
Why are you jargoning? Please speak in a simple language.