Integrity Meaning in Bengali - Integrity এর বাংলা অর্থ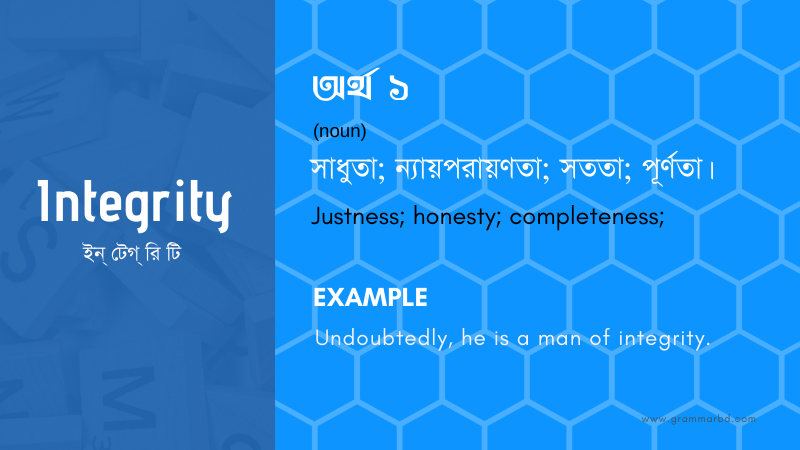 Bengali Meaning of Integrity
[ইন্ টেগ্ রি টি/ ɪnˈteɡ.rə.ti]
noun
1. সাধুতা; ন্যায়পরায়ণতা; সততা; চারিত্রিক শুদ্ধতা; 2. পূর্ণতা; অখন্ডতা ;
MEANING IN ENGLISH
noun
1. Justness; honesty; purity of character; 2. Entirety; completeness.
SYNONYM
Honesty; probity; principle; purity; sincerity; rectitude; virtue; forthrightness; candor; honestness; goodness; incorruptibility; incorruption; honorableness; straightforwardness; righteousness, uprightness; honor.
ANTONYM
Deceit, dishonesty, corruption, disgrace, dishonor, incompleteness, evil, badness, evildoing, iniquity, immorality, villainy, sin, wickedness.
Integrity EXAMPLES in Sentences:
The man is so much popular because of his absolute integrity.
Jane is trying hard to preserve her artistic integrity and refused so many lucrative films offers.
Undoubtedly, he is a man of integrity.
Never lose your integrity.
Nowadays integrity is a rare quality among human beings.
Please check the integrity of this information.
The change of the ending of this play will ruin its integrity.
Please don't do anything which will ruin your integrity.
This extension of the building will affect its architectural integrity.
Are you questioning his integrity?
The man's integrity is beyond any question.
The journalist was immensely praised because of his utmost integrity.
Are you doing it at the cost of your integrity?
Your integrity will help you to become a superior human being.
The team is checking the integrity of these data.
Are you sure about the integrity of this information?
Never question his integrity.
Never do anything at the cost of your integrity.
Any change in the script will ruin the integrity of the movie.
Your integrity will stop you from doing injustice.
Everyone loves him because of his utmost integrity.
Don't ruin the integrity of this writing by making these changes.
The comments of the boss were questions on the employees' integrity.
Omitting this information will affect the integrity of this report.
You should have checked the integrity of these data before submitting it.