Illiterate Meaning in Bengali - Illiterate এর বাংলা অর্থ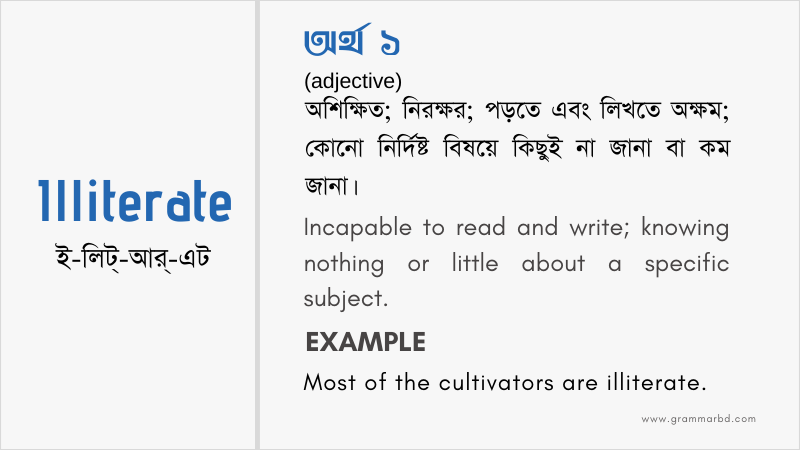 Bengali Meaning of Illiterate
[ই-লিট্-আর্-এট/ ɪˈlɪt̬·ər·ət]
adjective
1. অশিক্ষিত; নিরক্ষর; পড়তে এবং লিখতে অক্ষম; 2. কোনো নির্দিষ্ট বিষয়ে কিছুই না জানা বা কম জানা;
noun
একজন অশিক্ষিত বা নিরক্ষর বা পড়তে এবং লিখতে পারে না এমন ব্যক্তি;
MEANING IN ENGLISH
adjective
1. Incapable to read and write; 2. Knowing nothing or little about a specific subject;
noun
An illiterate person or a person who is incapable to read and write;
Derived Form/ Related Form
illiterately - adverb
illiteracy or illiterateness - noun
semi-illiterate - adjective
semi-illiterately - adverb
SYNONYM
Uneducated; ignorant; catachrestic; benighted; solecistic; inerudite; ungrammatical; unenlightened; unlearned; uninstructed; unread; unlettered; untaught; unschooled; untutored; nonstandard; unidiomatic; substandard; simple; rude; non-literate; dark; benighted; analphabetic; artless; uncultured; unsophisticated; untrained; unskilled; brainless; dumb; imbecile; idiotic; moronic; foolish; stupid; witless; silly; senseless; lowbrow;
ANTONYM
Intelligent; educated; learned; able; taught; literate; knowledgeable; schooled; lettered; well-read; well-informed; brilliant; experienced; smart; trained; expert; polymath; erudite; scholarly; cultured; cultivated; intellectual; highbrow; acquainted; sophisticated; familiar; aware; idiomatic; grammatical;
Phrase and Idiom
Functionally illiterate
অনেক দৈনন্দিন পরিস্থিতি এবং বেশীর ভাগ কাজের সাথে খাপ খাওয়ানোর জন্য যে শিক্ষার প্রয়োজন তার অভাব (Lacking the education or literacy necessary to cope with many daily situations and most works)
Illiterate EXAMPLES in Sentences
Most of the cultivators are illiterate.
Please don't talk like an illiterate.
In this era of information technology, please don't remain a computer illiterate.
Please don't scold him, he is still technologically illiterate but trying his best to learn.
The rate of illiterate people in the country is reducing day by day.
Please don't remain functionally illiterate; try to learn the necessary things on your own.
I distributed the leaflets among many people of the village, but later I came to know that most of them were illiterate.
Illiterate aged people are now going to evening schools for education.
Please stop saying such high thoughts here; it's like distributing books among illiterates.