Cereal Meaning in Bengali - Cereal এর বাংলা অর্থ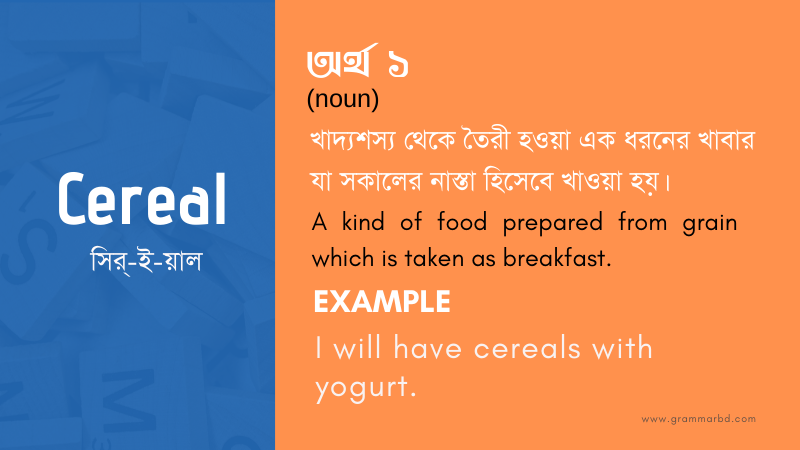 Bengali Meaning of Cereal
[সির্-ই-য়াল/ ˈsɪr.i.əl]
noun
1. খাদ্যশস্য থেকে তৈরী হওয়া এক ধরনের খাবার যা সকালের নাস্তা হিসেবে খাওয়া হয়; 2. এক ধরনের ঘাস যা শস্য উৎপাদনের জন্য জন্মানো হয়;
MEANING IN ENGLISH
noun
1. A kind of food prepared from grain which is taken as breakfast; 2. A kind of grass which is grown for producing grain;
Derived Form/ Related Form
non-cereal - adjective, noun
SYNONYM
Corn; bran; rice; grain; oats; wheat; breakfast food; rye; edible grain;
Cereal EXAMPLES in Sentences
Please give me some fruit and yogurt with the cereals.
I will have cereals with yogurt.
Will you have cereals or bread for breakfast?
The farmer grows cereals like rice, wheat, and corn.
This land grows cereals well.
We get carbohydrates from cereals.
Do you like to have cereals at breakfast?
I will have cereals with fruits and milk.
Will you have cereals with milk or yogurt?
Jim won't have cereals, he will only have an egg.
What is the nutrition value of cereals compared to other foods for breakfast?
I will only buy cereals and nothing else.
You should finish packs of cereals quickly otherwise they get soggy.
This shop has different kinds of cereals for breakfast.
Different types of cereals are grown on this land.
Rice, wheat, corn, and other cereals are the sources of carbohydrates.
How many boxes of cereals do you need?
I need two boxes of cereals.
She scattered some cereals on the floor of the balcony for birds to eat.
Jane was looking at the packs of cereals on the shelves of the departmental store and was thinking about which one to buy.
I like almost all types of cereals for breakfast, but chocolate cereals are the most favorites among all.
Which kind of cereal do you prefer for breakfast?
Will you have strawberry or chocolate cereals?
Jerry doesn't prefer cereals for breakfast.