Manipulate Meaning in Bengali - Manipulate এর বাংলা অর্থ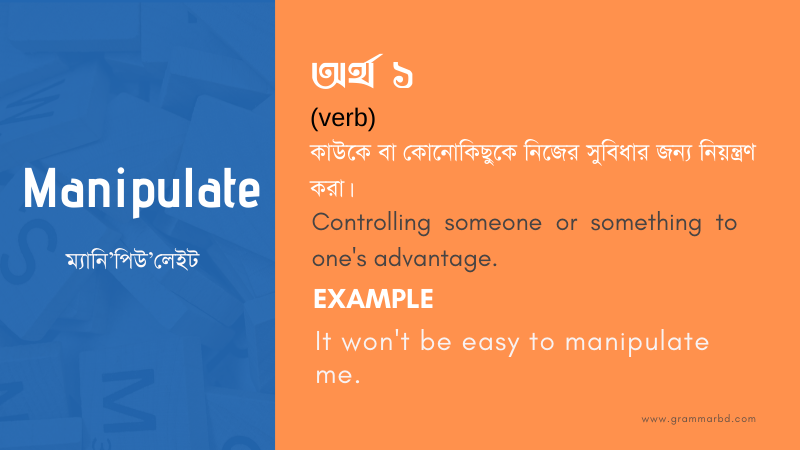 Bengali Meaning of Manipulate
[ম্যানি'পিউ'লেইট/ məˈnɪp.jə.leɪt]
verb (transitive)
1. কাউকে বা কোনোকিছুকে নিজের সুবিধার জন্য নিয়ন্ত্রণ করা, কখনও কখনও অসৎভাবে বা অন্যায়ভাবে; 2. কোনোকিছুকে হাতের সাহায্যে নিয়ন্ত্রণ করা; 3. কোনোকিছুকে নৈপূণ্যের সাথে ব্যবস্থাপনা বা নিয়ন্ত্রণ করা;
MEANING IN ENGLISH
verb (transitive)
1. Controlling someone or something to one's advantage, often dishonestly or unfairly; 2. Controlling something with hands; 3. Managing or controlling something skillfully;
Derived Form/ Related Form
manipulability (məˌnɪpjʊləˈbɪlɪtɪ), noun
manipulatable or manipulable, adjective
manipulation, noun
manipulative, adjective
SYNONYM
Shape; employ; feel; wield; form; finger; mold; manage; ply; operate; thumb; swing; work; use; play (upon); exploit; contend (with); address; cope (with); grapple (with); field; handle; hack; negotiate; maneuver; take; treat; engineer; contrive; finesse; finagle; machinate; frame; mastermind; wangle;
ANTONYM
Idle; destroy; leave alone; bungle; botch; fumble; foozle; louse up; goof (up); mishandle; mess (up); scamp; muff;
Manipulate EXAMPLES in Sentences:
The actor tried to manipulate the media by organizing a press conference.
Don't try to manipulate him because it's of no use.
It won't be easy to manipulate me.
She tried to manipulate everyone in her favor.
The surgeon manipulated the surgery successfully.
The patient was unable to manipulate the wheelchair.
I set the time of the watch by manipulating the buttons.
I set the clock's time by manipulating the nobs.
You have to manipulate every tool or instrument during the practical class.
Georgia was unable to manipulate the situation.
They tried to manipulate the data to mislead the management.
The auditors found out that the original data were manipulated.
The guardian tried to admit his son to the renowned school by manipulating the school's governing body.
Please don't try to manipulate the situation.
You can easily operate this machine by manipulating these buttons.
The corrupt upper class always try to manipulate the mass.
The patient was given a wheelchair which she could easily manipulate.